Leading Sports Supplements
The Ultimate Performance Stack assists with recovery to maximum muscle growth, more productive training sessions along with maintenance of a healthy body. If you want to increase your workout performance, getting serious results and recover faster, this is the stack for you.
The Ultimate Performance Stack contains 2 pre-workout options (PSI & RP Max) as well as an intra-workout supplement Beyond BCAA to ensure that you maximize muscle protein synthesis and development of lean muscle mass; limit lactic acid, cortisol and other stress hormone release; improve muscle fiber recovery time by reducing delayed onset muscle soreness; and maintaining intra-muscular osmotic balance and hydration.
To boost the post-workout recovery and muscle building fuel, this stack includes IsoPept Zero Post-Workout Protein to encourage your body to make quality lean muscle gains and minimize fat storage.
The addition of Glutamine helps you to boost your performance, while improving natural GH release so you can maximize your lean muscle growth while reducing joint inflammation, promoting joint health and full range of motion so pain won't hold you back from achieving your goal.
PERFORM is a daily peak performance optimizer specifically designed to enhance your brain and body with the elite sports performance dosage of multivitamins, minerals, antioxidants and amino acids to ensure that you bring your A-Game to win everyday.
IsoPept Zero
Mix 1 scoop of IsoPept® Zero with 6-8 ounces of chilled water or non-fat milk in a shaker bottle. Adjust liquid level to suit your taste and level of flavor intensity. Consume within 10 minutes post-workout as a fast absorbing protein source, or anytime of the day as your dietary needs require.
Beyond BCAA
Mix 1-2 scoops with 8-10 Ounces (240 - 295 ml) water and consume during your workout and/or throughout the day to maximise muscle recovery and limit muscle tissue breakdown.
WHEN TO TAKE BEYOND BCAAS?
1) Sip throughout your workout to increase performance, maintain cell hydration, reduce lactic acid build up and delay fatigue.
2) Post-workout to enhance recovery, promote lean muscle protein synthesis and reduce muscle soreness.
3) As a tasty drink in place of sodas and other high calorie drinks throughout the day.
RP MAX
Take 1 scoop of RP Max with 8-10 oz (240-295 mL) water 15-20 minutes before your workout. DO NOT exceed 2 scoops per day.
To get the most benefit out of RP Max, we recommend that you only use it on training days and avoid use within 5 hours of your bedtime due to its stimulant-based nature. If you are training later in the day or at night, we recommend the use of PSI non-stimulatory pre-workout in place of RP Max.
Glutamine
Take 1 to 2 scoops with 10 oz (295ml) of water. Do not exceed 3 scoops in one day.
Joint Flex
As a dietary supplement, take two (2) capsules once daily with a meal, or as directed by a health care professional.
Joint Repair
As a dietary supplement, take two (2) capsules once daily with a meal, or as directed by a healthcare professional.
IsoPept Zero Banana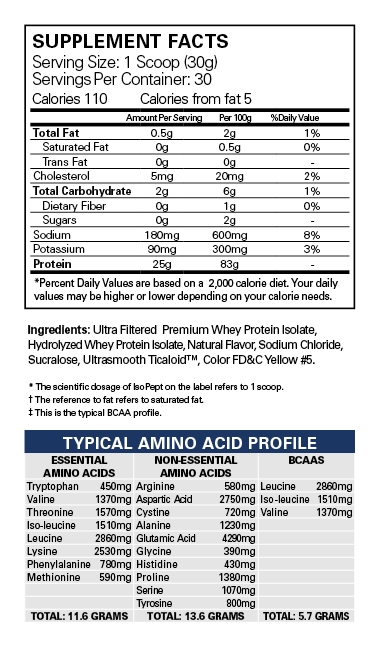 IsoPept Zero Choc Peanut Butter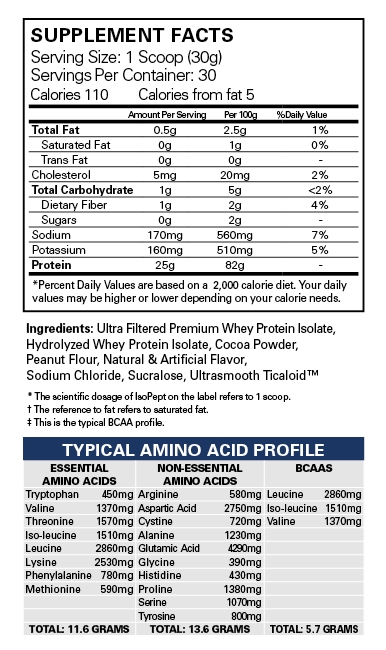 IsoPept Zero Chocolate Decadence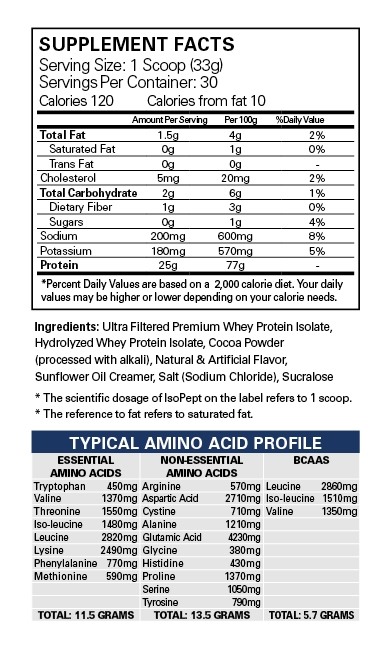 IsoPept Zero Cookies & Cream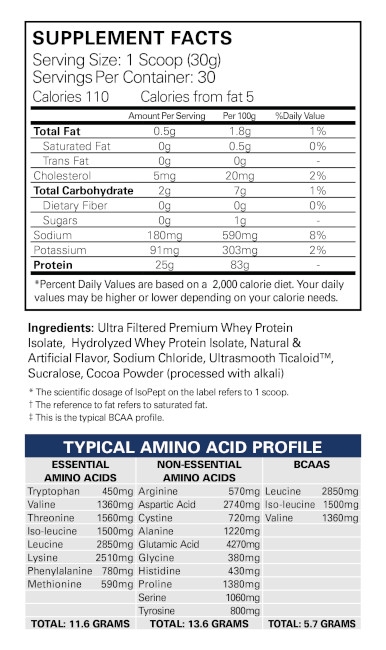 IsoPept Zero Mocha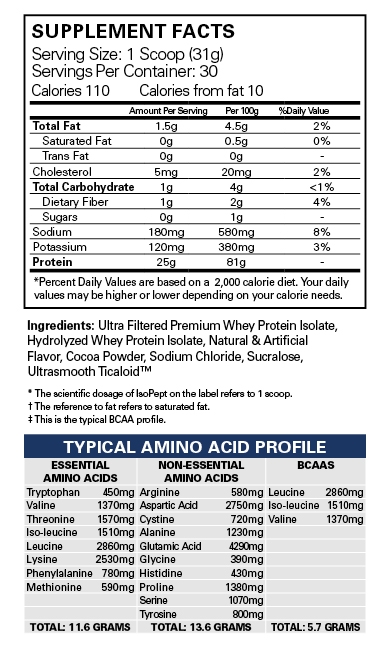 IsoPept Zero Strawberry Sensation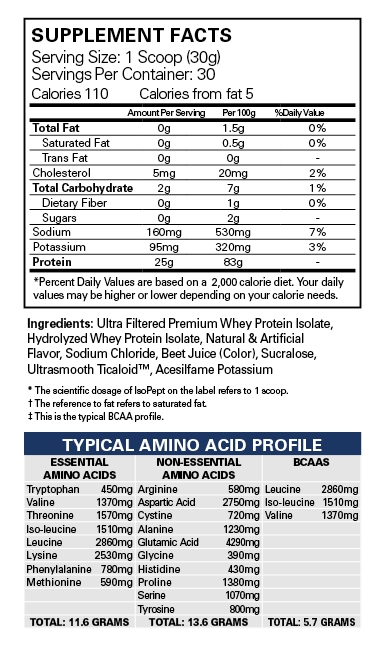 IsoPept Zero Vanilla Ice Cream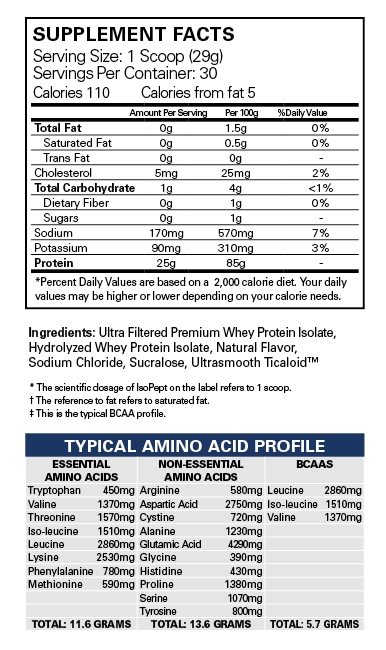 BEYOND BCAA MANGO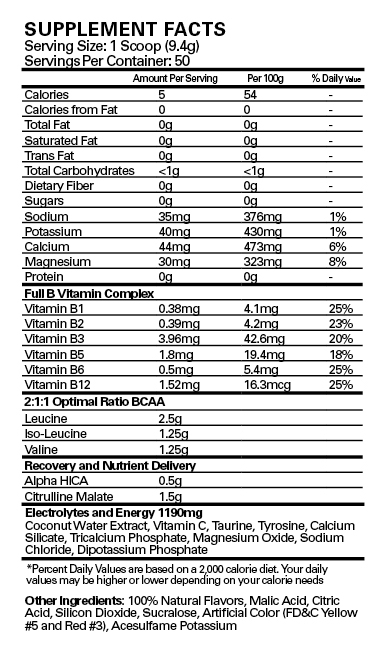 BEYOND BCAA KIWI STRAWBERRY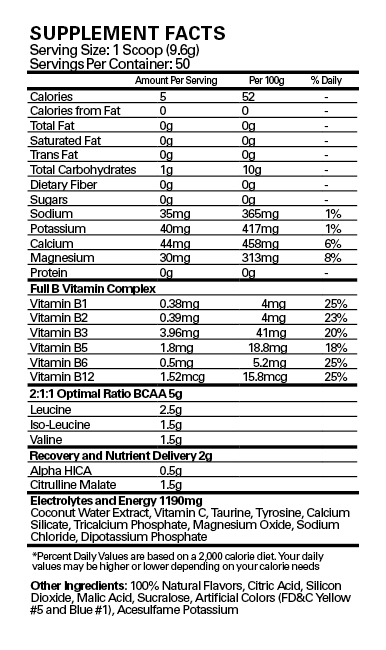 BEYOND BCAA PINEAPPLE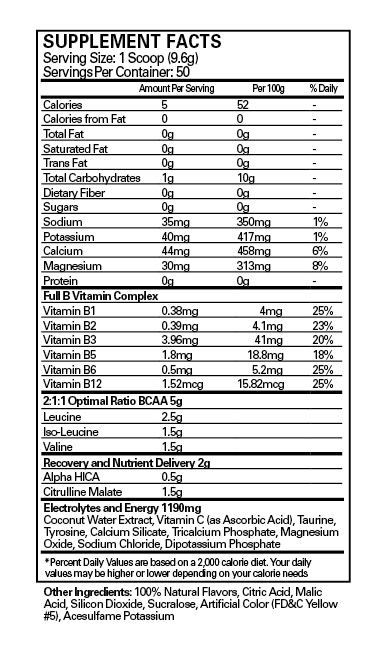 BEYOND BCAA STRAWBERRY DAIQUIRI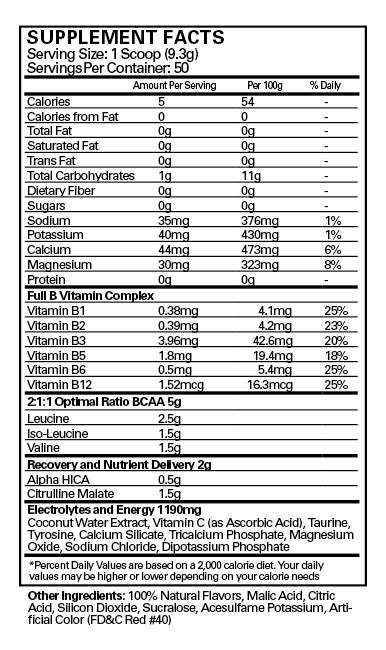 BEYOND BCAA PASSIONFRUIT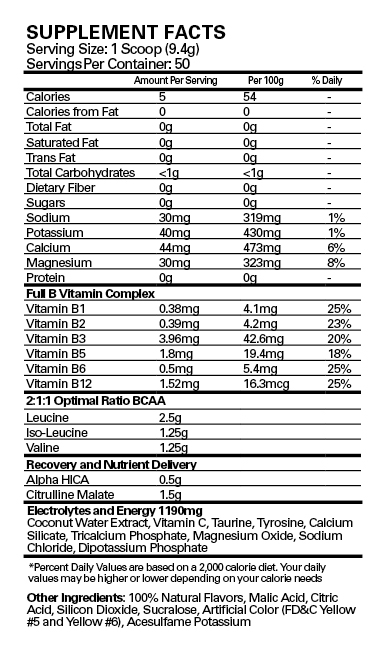 BEYOND BCAA PARADISE FRUITS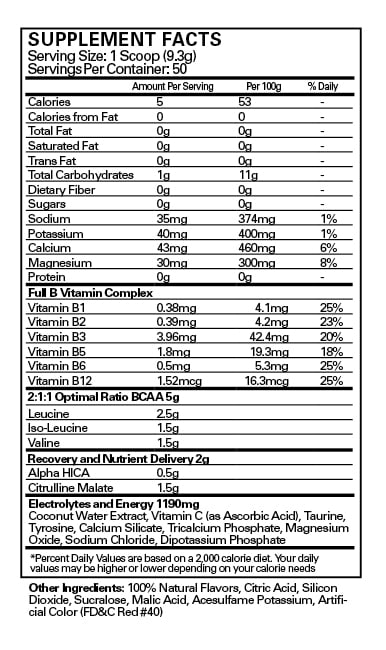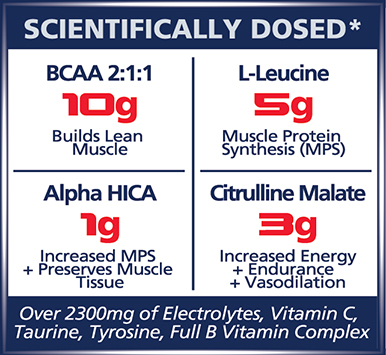 | | | |
| --- | --- | --- |
| L-Glutamine (100 serves) | Amount / serving | % DV |
| Calories | 0 | |
| Total Fat | 0 | 0% |
| Cholesterol | 0 | 0% |
| Total Carbohydrates | 0 | 0% |
| Protein | 0 | 0% |
* Percent daily value are based on a 2,000 calorie diet.
Ingredients - 100% Pharmaceutical Grade L-Glutamine
RP MAX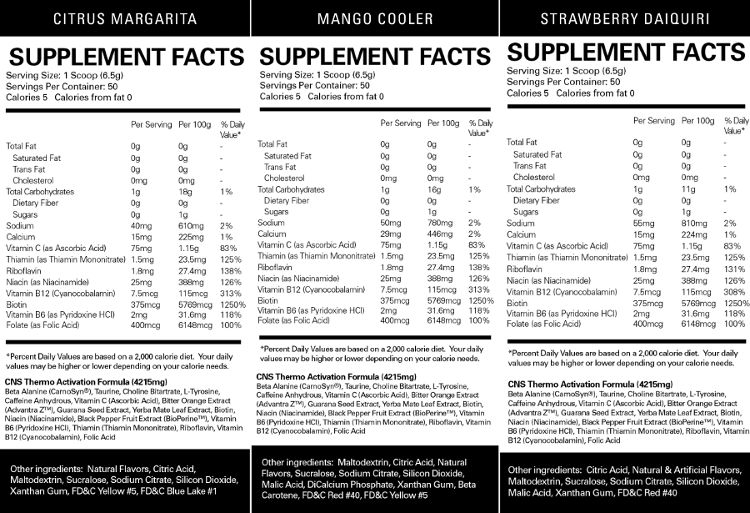 Beta Alanine – is a well researched ingredient that is used in many pre-workout supplements. Beta Alanine is the rate-limiting component in the synthesis of Carnosine in the body, so by using Beta Alanine you can increase your levels of Carnosine which acts as a very powerful anti-oxidant and also as an acid buffer within your muscles. This helps to delay the feeling of fatigue and exhaustion which allows you to workout longer and harder. Beta Alanine has been suggested to enhance muscle contractility, improve explosive power and increase aerobic energy production.
Taurine – is a naturally occurring amino acid that is a powerful antioxidant helping to decrease muscle damage and soreness, helps to improve strength levels, metabolize fat, promotes insulin sensitivity and blood glucose control,improves heart health and helps to improve both mental focus and reaction time. Choline Bitartrate – helps to delay fatigue during strenuous prolonged workouts, plays a role in fat mobilization as it is a lipotropic agent (stops deposition of fat) and is crucial for nerve health and signalling.
L-Tyrosine – is a naturally occurring amino acid that enhances alertness and cognitive performance, especially in demanding situations (eg. heavy workouts), is involved with neurotransmitters and plays a role in the production of epinephrine and dopamine. It helps to alleviate stress, and helps with recovery from fatigue without any jittery side effects. When taurine is combined with tyrosine, they work synergistically and EHPlabs studies found there is a lift in mood and overall focus.
Caffeine Anhydrous – is a CNS stimulant that acts as an energy booster and also boosts metabolism by increasing free fatty acid mobilisation. It improves the contractile function of muscle, muscular strength and performance in intermittent bouts of exercise.
Guarana Seed Extract – is a CNS stimulant containing theobromine and theophylline, which acts as an energy booster and enhances the effects of caffeine. It also helps to improve mental focus.
Yerba Mate Leaf Extract – is a CNS stimulant used to relieve fatigue which also possesses antioxidant properties.
Advantra Z – increases energy levels, your metabolic rate (thermogenesis) and is effective in reducing body fat through accelerated lipolysis.
BioPerine – has a synergistic effect with caffeine to increase absorption of vitamins and nutrients, improve thermogenesis and may improve fat metabolism.
Vitamin C - essential for the proper functioning and boosting of the immune system and also plays a crucial function in growth and muscle repair.
B Vitamins - essential B-Vitamin complex for energy production, synthesis of new cells and repair of damaged cells.
Joint Repair For Men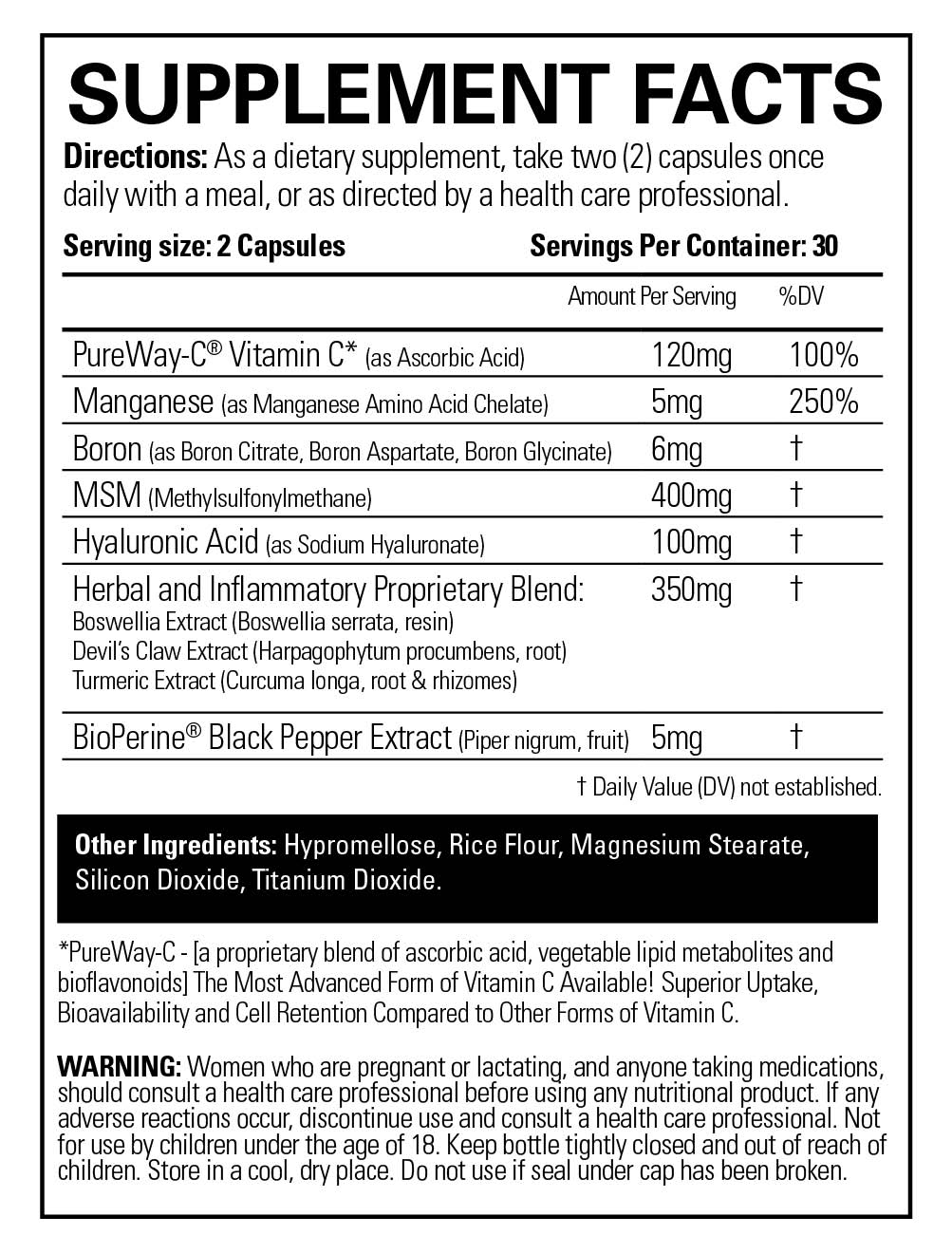 Joint Flex For Women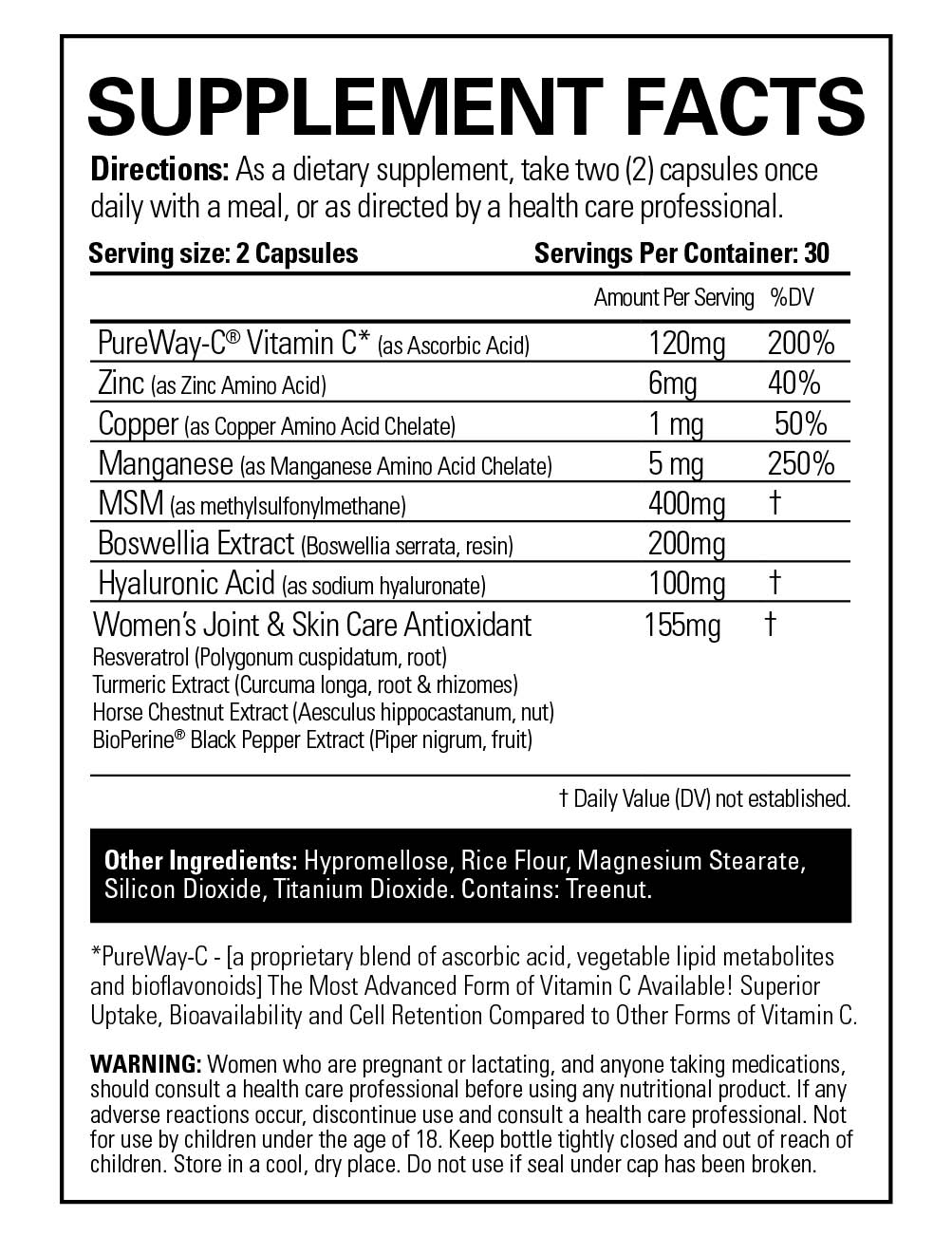 CAN I ADD OXYSHRED TO MY ISOPEPT® ZERO SHAKE?
We recommend that you do not add OxyShred to your IsoPept® Zero shake. OxyShred is a thermogenic fat burner drink and has a fruity flavor profile. IsoPept® Zero is a protein shake and has more of a milkshake like appearance and texture, even when mixed only with water.
IS ISOPEPT® ZERO GLUTEN AND LACTOSE FREE?
IsoPept® Zero is gluten free. During the ultra filtration process, undesirable components and allergens of whey protein are removed - this includes lactose and fat. There may still be traces of lactose present in IsoPept® Zero and if you have lactose allergies, you should test your tolerance levels prior to consistently consuming IsoPept® Zero.
WHAT IS THE BEST ISOPEPT ZERO FLAVOR?
EHPlabs is renowned in the industry as having the best flavor scientists and formulators. All IsoPept® Zero flavors are delicious, and your choice will depend on your personal taste and flavor inclinations. What we know for sure is that when you're drinking IsoPept® Zero, you'll think you're drinking a delicious, smooth milkshake. Our most popular flavors are; Vanilla Ice Cream, Cookies N Cream and Choc Peanut Butter.
HOW DOES BEYOND BCAA HELP WHILE DIETING?
Beyond BCAA contains high levels of leucine, which is an essential amino acid required for muscle protein synthesis to ensure your muscles do not break down while you are dieting and training. Beyond BCAA also contains important electrolytes, including coconut water, to ensure that you remain hydrated, and the full B vitamin spectrum to promote natural energy production.
WHAT IS THE DIFFERENCE BETWEEN OXYWHEY AND BEYOND BCAA?
OxyWhey is a lean whey protein supplement which is sourced from dairy. Protein is made up of amino acids (full spectrum) which are bonded together by peptide links. Your body contains enzymes which break down the peptide bonds to free the amino acids, meaning there is an additional biological process required to extract the amino acids to be utilized by muscles.
OxyWhey contains 5.3 grams of BCAAs, in addition to the other amino acids, comprising 24 grams of protein per serving. Beyond BCAA is purely branched chain amino acids, in addition to other valuable recovery, endurance and hydration ingredients. Beyond BCAA is best consumed during your workout to drive leucine, iso-leucine and valine to your muscles to promote muscle protein synthesis and reduce lactic acid build up. OxyWhey is best consumed after your workout to ensure that your muscles recover and have enough protein supply for growth and repair.
WHAT KIND OF RESULTS CAN I EXPECT FROM TAKING BEYOND BCAA?
Beyond BCAA will dramatically reduce muscle soreness and fatigue. There will also be a noticeable difference in your muscle recovery time and your general well-being.
WHAT IS THE BEST FLAVOR OF BEYOND BCAA?
All of the flavors taste delicious but our most popular flavors are: Passionfruit, Strawberry Daiquiri and Kiwi Strawberry.
WHAT IS GLUTAMINE?
Glutamine is a naturally occurring amino acid that can be produced by your body, but is one of the most important supplements you need for physical training. This is due to the fact that the majority of your glutamine is stored in muscles, so a significant amount (~50%) can be lost after an intense workout.
This makes glutamine one of the most important supplements there is for those who visit the gym regularly or are bodybuilders. It has anti-catabolic effects to reduce muscle wasting and improve muscle anabolism, helps to hydrate muscle cells, improves immune function, boost growth hormone levels and increase glycogen storage.
HOW MANY SERVINGS OF GLUTAMINE CAN I TAKE PER DAY?
What's the serving size?? Recommended to start at 5g and work your way up...
WHAT TIME OF DAY SHOULD
I TAKE GLUTAMINE Glutamine should be taken immediately post-workout as your intramuscular levels will be at their lowest, and it will have the greatest absorption and uptake at that time. On non-training days, it is best taken in the morning.
WHAT MAKES EHPLABS' L-GLUTAMINE THE THE HIGHEST GRADE GLUTAMINE?
Here at EHPLabs, our scientists have worked tirelessly to create the highest quality of L-Glutamine - it is 100% pure pharmaceutical grade L-Glutamine with no added fillers or cheap bulking ingredients that some other supplements may have.
IS GLUTAMINE STACK SAFE WITH ANY OTHER PRODUCTS FROM THE EHPLABS RANGE?
Yes, our glutamine has been scientifically designed to be stack safe with all of our EHPLabs products.
I'M NEW TO THE GYM - IS GLUTAMINE ESSENTIAL TO MY PROGRESSION?
Being new to the gym, glutamine will be of large benefit to you as it will help you to maximise the effects of your workouts and help with your progression throughout your journey.
As it helps to prevent muscle breakdown, enhances growth hormone levels and helps to hydrate your muscle cells, it will assist you to achieve your goals and progress in a faster way than you would without it.
WHAT POSITIVE EFFECTS DOES GLUTAMINE HAVE FOR ME OUTSIDE OF THE GYM?
Glutamine is a crucial amino acid in your body and plays many roles. Even outside of the gym, glutamine is used by your body in high amounts during periods of stress, helps to improve immune function, supports digestive health, mental wellness and also helps to improve muscle glycogen stores independent of insulin.
HOW MANY SERVINGS OF RP MAX CAN I TAKE PER DAY?
We recommend taking no more than 2 scoops of RP Max pre-workout per day. You should test your tolerance to stimulants by starting with ½ a scoop of RP Max and building up from there.
COMPARED TO OTHER PRE-WORKOUTS I'VE USED IN THE PAST, WHAT MAKES RP MAX UNIQUE?
Rather than overloading RP Max pre-workout with every possible ingredient, the scientists at EHPlabs focused on ensuring that the key attributes of a top quality pre-workout were focused on.
RP Max pre-workout provides the optimal central nervous system and adrenal gland stimulation to trigger a positive homeostatic energy release, improved cognitive ability, muscular and cardiovascular endurance. RP Max pre-workout is also scientifically balanced to prevent a negative feedback physiological response to mitigate against post-workout stimulant crashes adrenal gland exhaustion.
WHY IS RP MAX SUCH A FAST ACTING PRODUCT?
RP Max pre-workout includes an ingredient called "Bioperine". Bioperine is a trademarked ingredient that promotes the bio-availability of the CNS and adrenal stimulant active ingredients. As such, your body is able to absorb the various active ingredients at a faster rate, which promotes an almost immediate physiological and mental reaction.
HOW LONG BEFORE MY WORKOUT SHOULD I TAKE RP MAX?
Consume RP Max pre-workout approximately 15-20 minutes prior to your workout to allow for maximum absorption.
WILL RP MAX GIVE ME A TINGLING SENSATION?
Yes, you will experience a slight tingling sensation around your mouth area from consuming 1 to 2 servings of RP Max pre-workout. The cause of this tingling sensation is anamino acid ingredient called Beta Alanine, which when clinically dosed, promotes muscular endurance, anaerobic running capacity, power output and reduced muscular fatigue.
WILL I EXPERIENCE ANY POST WORKOUT CRASH AFTER CONSUMING RP MAX PRE-WORKOUT?
RP Max pre-workout should not cause any post workout crash as it focuses on stimulating the central nervous system and reducing the blood brain barrier to improve focus and cognitive ability. There is also a limited amount of caffeine,which ensures that you do not burn out your adrenal glands and release excessive cortisol (stress hormone which causes post workout crashes).
DO I HAVE TO TAKE RP MAX ON AN EMPTY STOMACH?
When taken on an empty stomach, you will increase your ability to absorb RP Max pre-workout more efficiently and maximize the effects of this pre-workout.
CAN I TAKE RP MAX FOR NON-PHYSICAL RELATED ACTIVITIES (I.E STUDYING, ETC)
Although RP Max pre-workout has been formulated as a pre-workout product, the key central nervous system stimulants, focus enhancers and crash buffers may assist people with other non-physical related activities such as studying.
CAN I STACK RP MAX WITH PSI?
Yes, RP Max and PSI have been designed to be stacked together, and also used independently.
Ultimate Performance Stack
$162.95

USD

$209.80
The Ultimate Performance Stack assists with recovery to maximum muscle growth, more productive training sessions along with maintenance of a healthy body. If you want to incr... Learn more
4 easy payments of $40.74 with
Perform Peak Performance Nootropic
This feature requires Javascript to be enabled. Please try updating, or consider using a different browser.
Need Help? Talk to an expert
SHARE YOUR RESULTS WITH US
Get featured on our site and be in the weekly draw to win a free products and merchandise. Simply tag us @ehplabs and hashtag #EHPLABSRESULTS.
JOIN THE EHP FAMILY
TRUSTED BY MILLIONS WORLDWIDE
Our promise to you is simple - to go above and beyond at every opportunity to help you reach your health and fitness goals. We want to be there for you every step of the way
Receive expert advice on: Training | Healthy Eating & Recipes | Mindset & Motivation | Supplementation
SALE

NEW

SOLD OUT

PREORDER

On Sale from

-

From

-

-

Liquid error: Could not find asset snippets/faq-item.liquid