Leading Sports Supplements
A pre-workout and anti-bloating diuretic are my essential supplements I always have in my arsenal. For those days when you have a huge session, or you're lacking the energy or motivation, pre-workouts are a goldmine that will help you achieve your goals.
I've worked with EHPlabs to create exclusive supplement stacks for my clients only! These are the stacks that I recommend, at a discounted price.
RP Max is a stimulant based pre-workout that provides optimal central nervous system and adrenal gland stimulation to trigger a positive homeostatic energy release, improved cognitive ability, muscular and cardiovascular endurance.

H2Drop is a versatile supplement and can be used to reduce stomach bloating, assist with progressive and steady water weight loss, or if used for advanced competition level preparation, it can act as a potent catalyst for quickly dropping water weight to achieve the desired "dry" look. Look lean, hard and dry. It's easy with H2Drop.
RP MAX
Take 1 scoop of RP Max with 8-10 oz (240-295 mL) water 15-20 minutes before your workout. DO NOT exceed 2 scoops per day.
To get the most benefit out of RP Max, we recommend that you only use it on training days and avoid use within 5 hours of your bedtime due to its stimulant-based nature. If you are training later in the day or at night, we recommend the use of PSI non-stimulatory pre-workout in place of RP Max.
H2Drop
As a dietary supplement, take two (2) capsules once daily with a meal, or as directed by a health care professional. For aggressive water weight elimination for professional competition prep, take two (2) capsules three times a day with meals.
RP MAX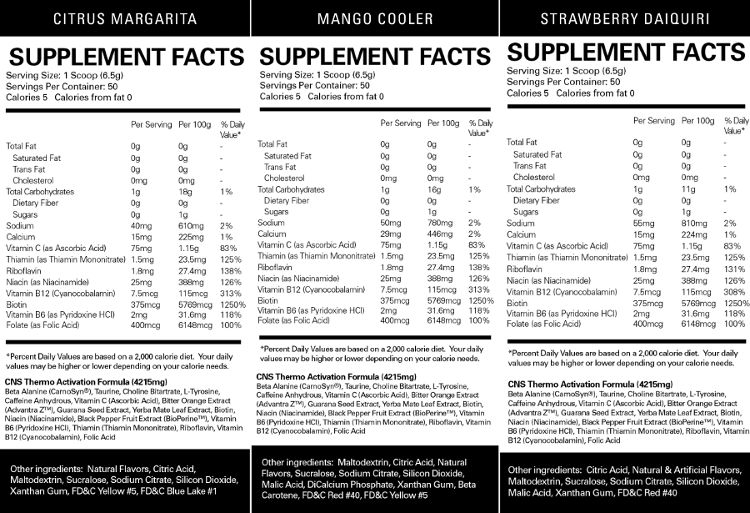 Beta Alanine – is a well researched ingredient that is used in many pre-workout supplements. Beta Alanine is the rate-limiting component in the synthesis of Carnosine in the body, so by using Beta Alanine you can increase your levels of Carnosine which acts as a very powerful anti-oxidant and also as an acid buffer within your muscles. This helps to delay the feeling of fatigue and exhaustion which allows you to workout longer and harder. Beta Alanine has been suggested to enhance muscle contractility, improve explosive power and increase aerobic energy production.
Taurine – is a naturally occurring amino acid that is a powerful antioxidant helping to decrease muscle damage and soreness, helps to improve strength levels, metabolize fat, promotes insulin sensitivity and blood glucose control,improves heart health and helps to improve both mental focus and reaction time. Choline Bitartrate – helps to delay fatigue during strenuous prolonged workouts, plays a role in fat mobilization as it is a lipotropic agent (stops deposition of fat) and is crucial for nerve health and signalling.
L-Tyrosine – is a naturally occurring amino acid that enhances alertness and cognitive performance, especially in demanding situations (eg. heavy workouts), is involved with neurotransmitters and plays a role in the production of epinephrine and dopamine. It helps to alleviate stress, and helps with recovery from fatigue without any jittery side effects. When taurine is combined with tyrosine, they work synergistically and EHPlabs studies found there is a lift in mood and overall focus.
Caffeine Anhydrous – is a CNS stimulant that acts as an energy booster and also boosts metabolism by increasing free fatty acid mobilisation. It improves the contractile function of muscle, muscular strength and performance in intermittent bouts of exercise.
Guarana Seed Extract – is a CNS stimulant containing theobromine and theophylline, which acts as an energy booster and enhances the effects of caffeine. It also helps to improve mental focus.
Yerba Mate Leaf Extract – is a CNS stimulant used to relieve fatigue which also possesses antioxidant properties.
Advantra Z – increases energy levels, your metabolic rate (thermogenesis) and is effective in reducing body fat through accelerated lipolysis.
BioPerine – has a synergistic effect with caffeine to increase absorption of vitamins and nutrients, improve thermogenesis and may improve fat metabolism.
Vitamin C - essential for the proper functioning and boosting of the immune system and also plays a crucial function in growth and muscle repair.
B Vitamins - essential B-Vitamin complex for energy production, synthesis of new cells and repair of damaged cells.
H2 Drop for Women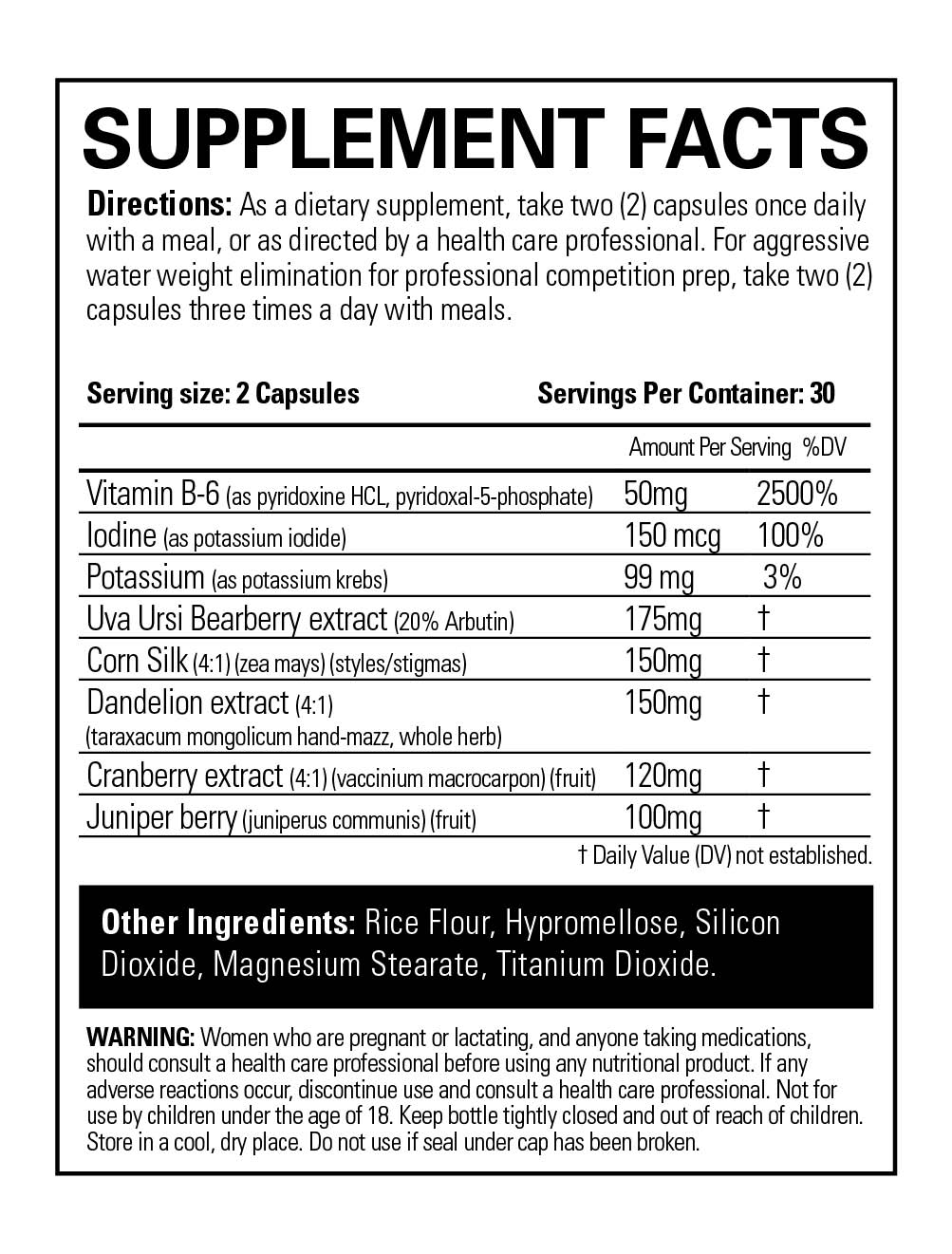 HOW MANY SERVINGS OF RP MAX CAN I TAKE PER DAY?
We recommend taking no more than 2 scoops of RP Max pre-workout per day. You should test your tolerance to stimulants by starting with ½ a scoop of RP Max and building up from there.
COMPARED TO OTHER PRE-WORKOUTS I'VE USED IN THE PAST, WHAT MAKES RP MAX UNIQUE?
Rather than overloading RP Max pre-workout with every possible ingredient, the scientists at EHPlabs focused on ensuring that the key attributes of a top quality pre-workout were focused on.
RP Max pre-workout provides the optimal central nervous system and adrenal gland stimulation to trigger a positive homeostatic energy release, improved cognitive ability, muscular and cardiovascular endurance. RP Max pre-workout is also scientifically balanced to prevent a negative feedback physiological response to mitigate against post-workout stimulant crashes adrenal gland exhaustion.
WHY IS RP MAX SUCH A FAST ACTING PRODUCT?
RP Max pre-workout includes an ingredient called "Bioperine". Bioperine is a trademarked ingredient that promotes the bio-availability of the CNS and adrenal stimulant active ingredients. As such, your body is able to absorb the various active ingredients at a faster rate, which promotes an almost immediate physiological and mental reaction.
HOW LONG BEFORE MY WORKOUT SHOULD I TAKE RP MAX?
Consume RP Max pre-workout approximately 15-20 minutes prior to your workout to allow for maximum absorption.
WILL RP MAX GIVE ME A TINGLING SENSATION?
Yes, you will experience a slight tingling sensation around your mouth area from consuming 1 to 2 servings of RP Max pre-workout. The cause of this tingling sensation is anamino acid ingredient called Beta Alanine, which when clinically dosed, promotes muscular endurance, anaerobic running capacity, power output and reduced muscular fatigue.
WILL I EXPERIENCE ANY POST WORKOUT CRASH AFTER CONSUMING RP MAX PRE-WORKOUT?
RP Max pre-workout should not cause any post workout crash as it focuses on stimulating the central nervous system and reducing the blood brain barrier to improve focus and cognitive ability. There is also a limited amount of caffeine,which ensures that you do not burn out your adrenal glands and release excessive cortisol (stress hormone which causes post workout crashes).
DO I HAVE TO TAKE RP MAX ON AN EMPTY STOMACH?
When taken on an empty stomach, you will increase your ability to absorb RP Max pre-workout more efficiently and maximize the effects of this pre-workout.
CAN I TAKE RP MAX FOR NON-PHYSICAL RELATED ACTIVITIES (I.E STUDYING, ETC)
Although RP Max pre-workout has been formulated as a pre-workout product, the key central nervous system stimulants, focus enhancers and crash buffers may assist people with other non-physical related activities such as studying.
CAN I STACK RP MAX WITH PSI?
Yes, RP Max and PSI have been designed to be stacked together, and also used independently.
$67.90

USD

$79.90
A pre-workout and anti-bloating diuretic are my essential supplements I always have in my arsenal. For those days when you have a huge session, or you're lacking the en... Learn more
4 easy payments of $16.98 with
This feature requires Javascript to be enabled. Please try updating, or consider using a different browser.
Need Help? Talk to an expert
SHARE YOUR RESULTS WITH US
Get featured on our site and be in the weekly draw to win a free products and merchandise. Simply tag us @ehplabs and hashtag #EHPLABSRESULTS.
JOIN THE EHP FAMILY
TRUSTED BY MILLIONS WORLDWIDE
Our promise to you is simple - to go above and beyond at every opportunity to help you reach your health and fitness goals. We want to be there for you every step of the way
Receive expert advice on: Training | Healthy Eating & Recipes | Mindset & Motivation | Supplementation
SALE

NEW

SOLD OUT

PREORDER

On Sale from

-

From

-

-

Liquid error: Could not find asset snippets/faq-item.liquid