Leading Sports Supplements
If you love IsoPept Zero post-workout and can't bare the thought of running out, look no further than the IsoPept Zero Twin Pack. You can choose your two favorite flavors of IsoPept Zero, and receive a complimentary tub of CREA-8.
IsoPept Zero contains 0 grams of sugar and almost 0 grams of fat and carbs per serving. This makes IsoPept Zero the ideal fast absorbing protein shake for anyone trying to gain lean muscle. And with 5.7 grams of BCAAs and 25 grams of protein, your body will be fueled with the ideal building blocks necessary for muscle growth and repair.
The product meets all of the strict laboratory testing criteria applied by EHPlabs to ensure that every batch produced contains a minimum of 25 grams of pure premium grade hydrolyzed and pure whey protein isolate.
IsoPept Zero
Mix 1 scoop of IsoPept® Zero with 6-8 ounces of chilled water or non-fat milk in a shaker bottle. Adjust liquid level to suit your taste and level of flavor intensity. Consume within 10 minutes post-workout as a fast absorbing protein source, or anytime of the day as your dietary needs require.
Crea-8
Consume 5 grams of CREA-8 with 8 Ounces (240 ml) of water or mix with OxyWhey Lean Protein post workout. During loading phase (1 week), consume 10 grams of CREA-8 pre and post workout with 8 ounces (240 ml) water.
IsoPept Zero Banana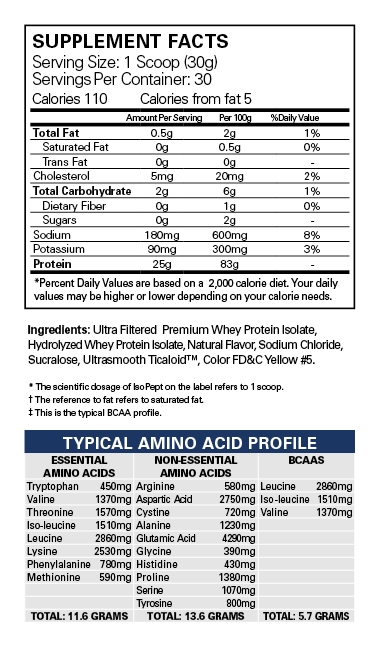 IsoPept Zero Choc Peanut Butter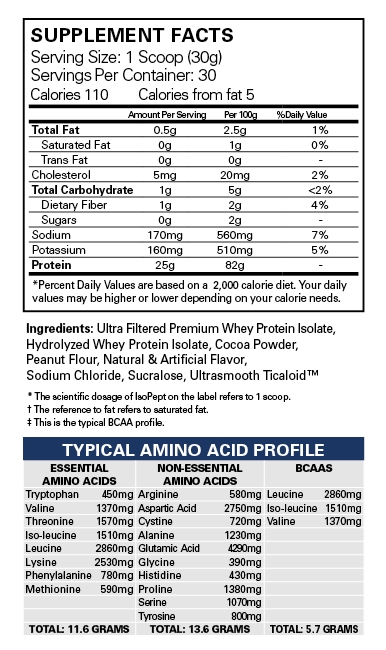 IsoPept Zero Chocolate Decadence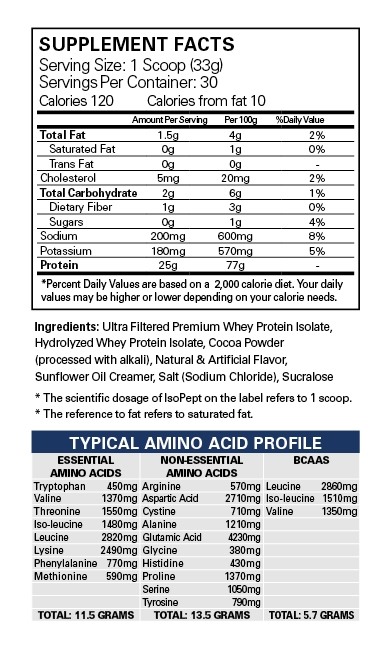 IsoPept Zero Cookies & Cream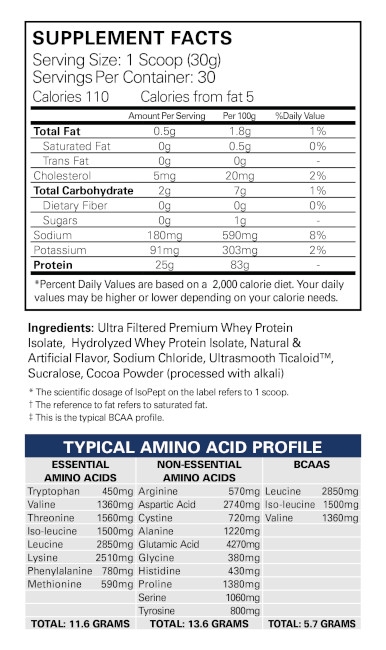 IsoPept Zero Mocha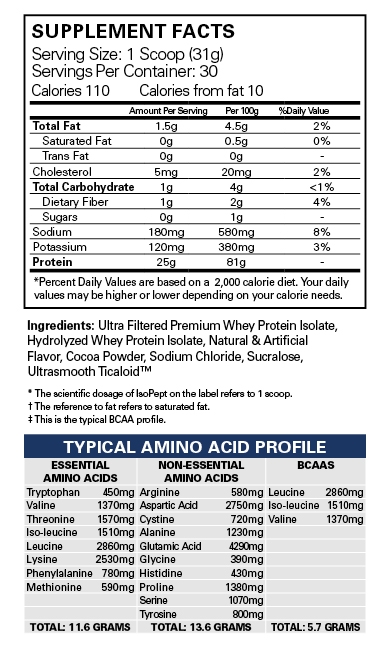 IsoPept Zero Strawberry Sensation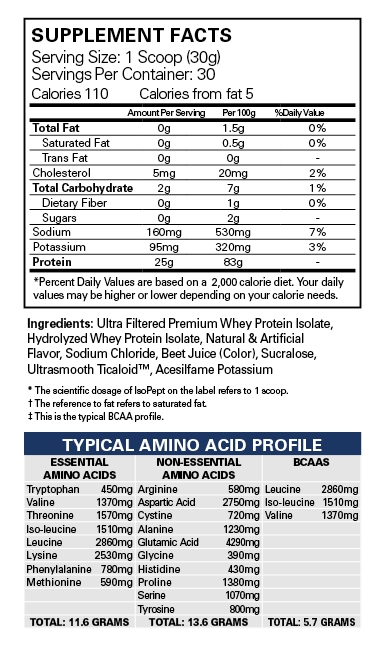 IsoPept Zero Vanilla Ice Cream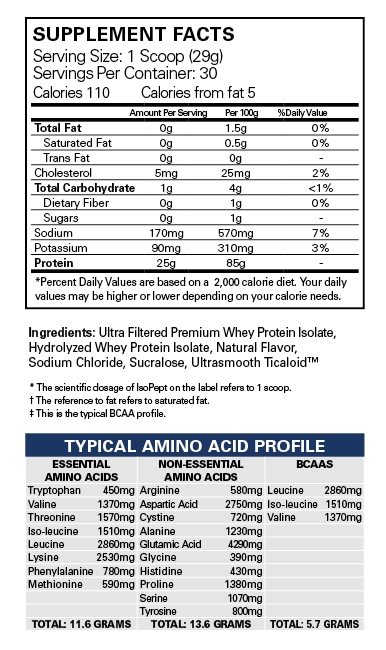 | | | |
| --- | --- | --- |
| Creatine Monohydrate (100 serves) | Amount / serving | % DV |
| Calories | 0 | |
| Total Fat | 0 | 0% |
| Cholesterol | 0 | 0% |
| Total Carbohydrates | 0 | 0% |
| Protein | 0 | 0% |
| Creatine Monohydrate | 5g | |
* Percent daily value are based on a 2,000 calorie diet.
CAN I ADD OXYSHRED TO MY ISOPEPT® ZERO SHAKE?
We recommend that you do not add OxyShred to your IsoPept® Zero shake. OxyShred is a thermogenic fat burner drink and has a fruity flavor profile. IsoPept® Zero is a protein shake and has more of a milkshake like appearance and texture, even when mixed only with water.
IS ISOPEPT® ZERO GLUTEN AND LACTOSE FREE?
IsoPept® Zero is gluten free. During the ultra filtration process, undesirable components and allergens of whey protein are removed - this includes lactose and fat. There may still be traces of lactose present in IsoPept® Zero and if you have lactose allergies, you should test your tolerance levels prior to consistently consuming IsoPept® Zero.
WHAT IS THE BEST ISOPEPT ZERO FLAVOR?
EHPlabs is renowned in the industry as having the best flavor scientists and formulators. All IsoPept® Zero flavors are delicious, and your choice will depend on your personal taste and flavor inclinations. What we know for sure is that when you're drinking IsoPept® Zero, you'll think you're drinking a delicious, smooth milkshake. Our most popular flavors are; Vanilla Ice Cream, Cookies N Cream and Choc Peanut Butter.
WHEN'S THE BEST TIME TO TAKE CREA-8?
There is no scientific research that provides evidence for optimal creatine monohydrate consumption timing. However, it is important to ensure that you consistently consume
CREA-8 on a daily basis to ensure that your muscles are saturated with creatine monohydrate to promote cell volumization, muscle hydration and increased endurance.
WILL CREA-8 CAUSE WATER RETENTION?
The natural biological response by the body from consuming creatine monohydrate is to retain water in the muscle cells. Excessive water retention and bloating is a side effect of poor quality creatine monohydrate. CREA-8 is the best quality German grade creatine monohydrate and will not lead to excessive water retention. However, if you are competing in bodybuilding/fitness show or you want to remain extra dry in appearance (dehydrated), we recommend to hold off using CREA-8.
I HEARD THAT CREATINE IS A CHEMICAL - IS CREA-8 SAFE TO CONSUME?
Creatine monohydrate is a safe supplement that has been used in fitness and bodybuilding for decades. It is a combination of three different amino acids: glycine, arginine and methionine. Amino acids are the building blocks of proteins. Scientific studies suggest that creatine monohydrate increases fat free mass, anaerobic strength and power.
$99.95

USD

$129.85
If you love IsoPept Zero post-workout and can't bare the thought of running out, look no further ... Learn more
Choose between Crea-8 or Glutamine
This feature requires Javascript to be enabled. Please try updating, or consider using a different browser.
Need Help? Talk to an expert
Supplement Guide | IsoPept Zero
Supplement Guide | IsoPept Zero
EHPlabs Athlete Jaco De Bruyn explains the benefits of IsoPept Zero;
25g of protein per scoop - the winning combination of Hydrolyzed and Pure Whey Protein Isolate, and 5.7g BCAAs per scoop to fuel my muscle growth and repair in various exceptional flavor options.
Why Zero? The answer is simple - ZERO grams of sugar and almost ZERO grams of fat and carbs per serving, making IsoPept Zero the ideal post-workout protein shake for anyone trying to gain lean muscle or lose weight. 
SHARE YOUR RESULTS WITH US
Get featured on our site and be in the weekly draw to win a free products and merchandise. Simply tag us @ehplabs and hashtag #EHPLABSRESULTS.
JOIN THE EHP FAMILY
TRUSTED BY MILLIONS WORLDWIDE
Our promise to you is simple - to go above and beyond at every opportunity to help you reach your health and fitness goals. We want to be there for you every step of the way
Receive expert advice on: Training | Healthy Eating & Recipes | Mindset & Motivation | Supplementation
SALE

NEW

SOLD OUT

PREORDER

On Sale from

-

From

-

-

Liquid error: Could not find asset snippets/faq-item.liquid