Regular price
Was
$188.84
Sale price

$143.33
Unit price
per
Sale
Out of Stock
Nurture your body inside and out with the EHPlabs Blessed Plant Based Bundle, a collection of premium products designed to support overall well-being.
Description

Introducing the EHPlabs Blessed Plant Based Bundle: Elevate Your Wellness Journey

Discover a holistic approach to well-being with the EHPlabs Blessed Plant Based Bundle. This thoughtfully curated collection of premium products is designed to nourish your body from within, supporting your immunity, gut health, and overall vitality.

Blessed Protein 2lb - Nourish Your Muscles:
Fuel your body with the power of pure plant protein. Blessed Protein 2lb offers a delicious blend of raw, plant-based protein sources, promoting muscle recovery and growth. With every scoop, you're supporting your muscles and fortifying your wellness journey.

Blessed Gainz NEW - Fuel Your Gains:
Elevate your workout performance and muscle development with Blessed Gainz NEW. Packed with essential amino acids, this advanced formula provides the nutrients your body needs to optimize gains, making it an essential part of your fitness routine.

Blessed Bars - On-the-Go Nutrition:
Experience the convenience of wholesome nutrition with Blessed Bars. These delectable bars are not only a tasty snack but also a source of clean energy to fuel your active lifestyle. With a balance of nutrients and flavors, they're the perfect companion for your wellness journey.

BLESSED BIODEGRADABLE SHAKER BLACK - Sustainable Mixing:
Mix your supplements sustainably with the BLESSED BIODEGRADABLE SHAKER BLACK. This eco-friendly shaker ensures a smooth blend every time while also contributing to a healthier planet.

Blessed Stainless Steel Shaker - Premium Mixing Solution:
For a premium mixing experience, the Blessed Stainless Steel Shaker is your go-to solution. Its sleek design and durable construction make it an ideal choice for preparing your supplements with style and ease.

Blessed Yoga Mat - Enhance Your Practice:
Elevate your mindfulness and self-care routine with the Blessed Yoga Mat. Crafted for comfort and stability, this mat provides the perfect foundation for your yoga and meditation sessions, promoting inner balance and wellness.

Nurture your body, mind, and spirit with the EHPlabs Blessed Plant Based Bundle. Elevate your wellness journey today and embark on a path to holistic well-being that supports your immunity, nourishes your gut, and enhances your vitality. 
Directions

Blessed Protein 2lb - Nourish Your Muscles:

Mix 1 scoop of Blessed Protein with 8-10 oz (240-300 ml) of cold water or your preferred beverage. Shake well or blend until smooth. Consume as a post-workout recovery drink or as needed to supplement your protein intake.

Blessed Gainz NEW - Fuel Your Gains:

Take 1 scoop of Blessed Gainz NEW mixed with 8-10 oz (240-300 ml) of cold water, and consume either 15-30 minutes before your workout for enhanced performance or immediately after your workout to support muscle recovery and growth.

Blessed Bars - On-the-Go Nutrition:

Enjoy one Blessed Bar as a convenient snack between meals or as an energy boost before or after your workout. No additional preparation required.

Please remember that individual responses to supplements may vary. Always follow the recommended dosage instructions on the product packaging and consult with a healthcare professional before introducing new supplements to your routine, especially if you have any underlying health conditions or are taking other medications.
Ingredients

Blessed:

| | | |
| --- | --- | --- |
| Blessed S'mores - (35.9g per Serving) | Per Serve | % DV |
| Calories (kCals) | 140 | |
| Protein | 23g | 34%** |
| Fat-Total | 3g | 4%** |
| Saturated Fat | 0.5g | 3%** |
| Carbohydrates - Total | 7g | 3%** |
| Dietary Fiber | 2g | 7%** |
| Sodium | 450mg | 20% |
| Calcium | 40mg | 3% |
| Potassium | 100mg | 2% |
| Iron | 6.3mg | 35% |

** Percent daily value are based on a 2,000 calorie diet.

Blessed Bars:




Blessed Gainz:
View full details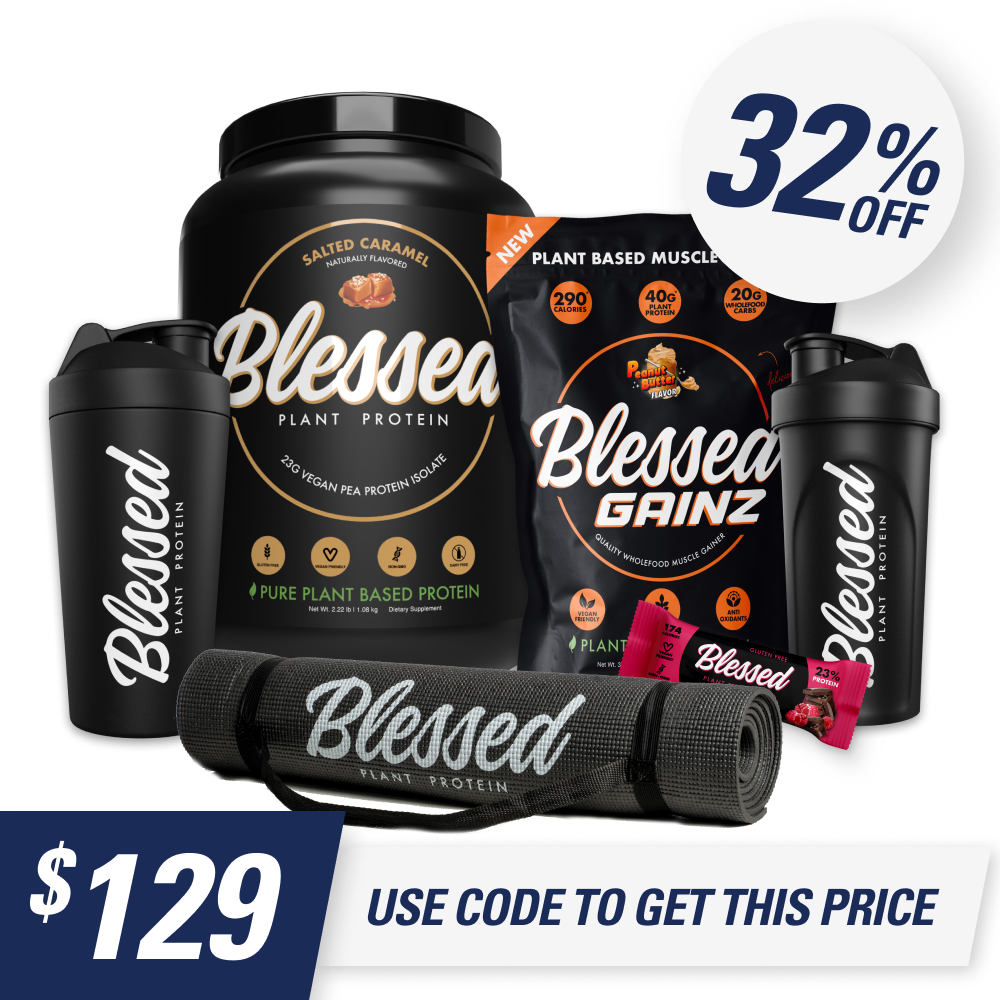 Blessed Plant Based Bundle
Regular price
Was
$188.84
Sale price

$143.33
Unit price
per
Sale
Out of Stock
Shipping, Returns & Payment Info
Shipping Information

Shipping costs:

We offer FREE domestic shipping within the USA for orders over $100. For orders under $100, shipping starts at just $6.95.

International shipping prices start at $15 and may vary based on the weight and location of your order. For a detailed breakdown of our shipping rates, please refer to our shipping policy page.

Order processing time:

Once we receive your order, our team will promptly pick, pack, and process it within 48 business hours*. You'll receive an email with your tracking details as soon as your order has been processed, so you can stay updated on its delivery.

Estimated delivery time:

Delivery times vary depending on your location. Here are some estimated delivery times:

Domestic USA: 4-7 business days
Canada: 5-10 business days
South America: 7-10 business days
Australia/Asia: 10-14 business days
UK/Europe: 7-14 business days
Middle East/Africa: 12-20 business days

For a detailed breakdown of our delivery estimates, please refer to our shipping policy page.

With our affordable shipping rates and speedy processing times, you can expect your EHPlabs order to arrive at your doorstep in no time.
Exhanges & Returns

We're here to help make sure you're completely satisfied with your purchase from EHPlabs!

If for any reason you receive a damaged or incorrect product, simply let us know within 7 days of delivery and we'll be happy to replace it or refund your purchase price.You can start a return by emailing us at contact@ehplabs.com.

If you receive a defective or damaged item, don't worry! Just contact us right away and we'll work with you to evaluate the issue and make things right. Please take a photo of the issue so we can quickly resolve the problem.

While we're unable to accept returns on certain items, such as opened supplements, clearance items, loyalty points, and gift cards, we're always happy to help with any questions or concerns you have about your specific order.

And don't worry, we're always here to help with exchanges as well! Just return the original item and make a separate purchase for the new one.

We'll be sure to notify you once we receive and inspect your return. If approved, we'll refund your original payment method within 10 business days of receipt. If you have any questions about the process and if it's been more than 15 business days since your return was approved, please don't hesitate to contact us at contact@ehplabs.com.

We're always here to help.
Payment

Shopping has never been easier with our flexible payment options.

Choose from our range of convenient payment methods, including Buy Now, Pay Later services such as AfterPay, Klarna, Shop Pay, and Sezzle.

If you prefer to pay on the spot, we also accept all major credit cards, including AMEX, Mastercard, and VISA. With so many options to choose from, you can shop with confidence and convenience.
OxyShred
Achieve your goals with this scientifically researched shredding formula containing proven ingredients that help promote fat loss, boost immunity and provide a natural energy boost. Oxyshred Ultra Concentration comes in delicious flavours for all tastes, and ticks all the boxes for those wanting to shred and reach their full potential!
Read more
Buy Now, Pay Later Options
4 Interest-free Payments
Pay every 2 weeks
4 Interest-free Payments
Pay every 2 weeks
4 Interest-free Payments
Pay every 2 weeks
4 Interest-free Payments
Pay every 2 weeks